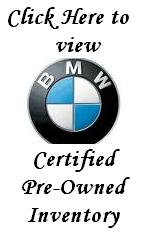 What qualifies a BMW to become a Certified Pre-Owned BMW?
Only the best pre-owned BMWs qualify for the Certified Pre-Owned BMW Vehicle Program. To be eligible for enrollment in the Certified Pre-Owned Vehicle Program, a late-model vehicle must be in service for at least six months or have more than 6,000 miles but less than 60,000 miles on the odometer. They must pass an extensive examination - a thorough and rigorous inspection by BMW factory-trained technicians. They inspect the vehicle for safety, performance and wear. If something is not right, it is fixed. If it cannot be fixed, the car cannot become a Certified Pre-Owned BMW.
In short, we're picky. But when you see everything covered under our Protection Plan, you'll understand why.
Ask to see the Certified Pre-Owned Inspection Checklist. It is your assurance of the quality, reliability and overall pleasure BMW owners have come to expect.
Certified Pre-Owned Vehicle Inspection Checklist (0.4 MB PDF)
BMW Roadside Assistance Brochure (0.3 MB PDF)
CPO Special Offer thru September 30, 2010 (0.1 MB PDF)